A Consistent Design & A Brief History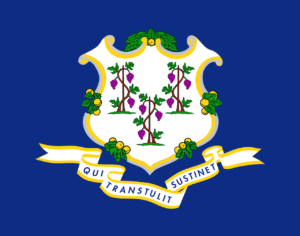 The Connecticut General Assembly approved the flag in 1897 after it was introduced by Governor Owen Vincent Coffin in 1895.[1]
The design comes from the seal of Saybrook Colony, designed by George Fenwick when it was established in 1639. That seal depicted 15 grapevines and a hand in the upper left corner with a scroll reading "Sustinet qui transtulit". When Connecticut Colony bought Saybrook in 1644, the seal transferred to Connecticut Colony. On October 25, 1711, the governor and legislature changed the seal. They reduced the number of grapevines from 15 to three, in order to represent the three oldest settlements (Windsor, Wethersfield, and Hartford)[2] (or possibly the three separate settlements, Connecticut Colony, Saybrook Colony, and New Haven Colony, which had been absorbed into Connecticut by that time) and rearranged the wording and position of the motto.
[reprinted from Wikipedia]