New Hampshire State Flags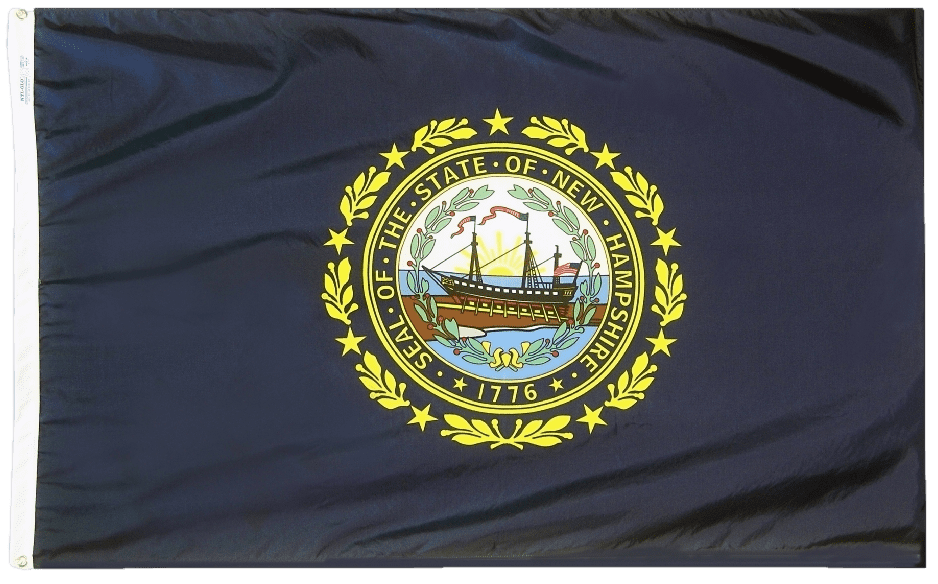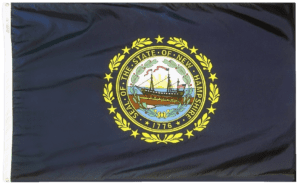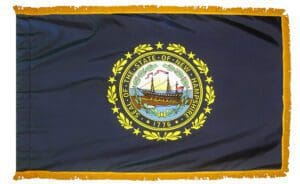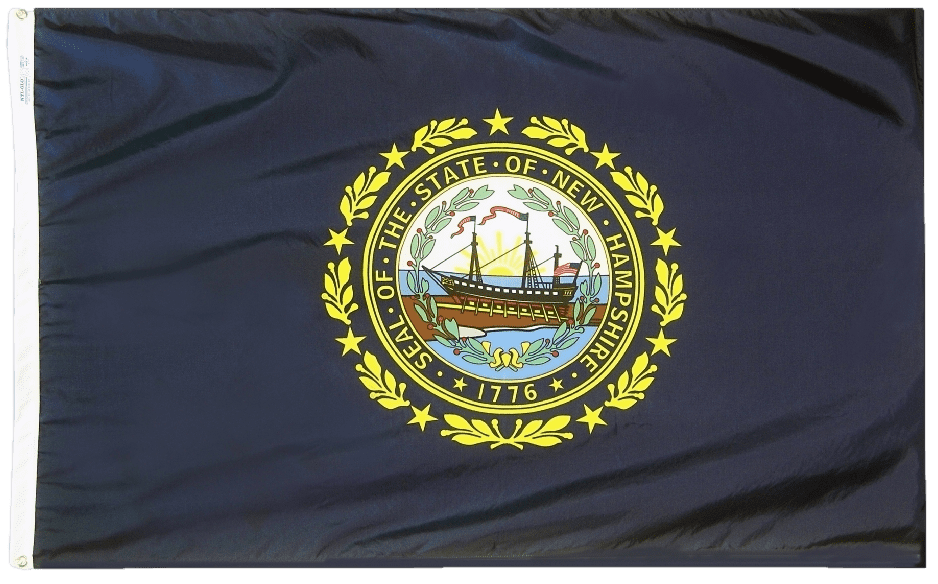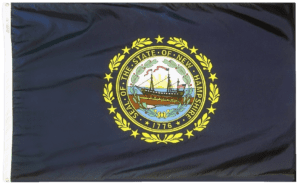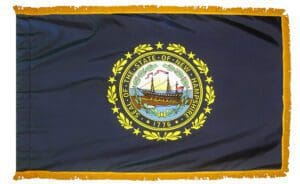 A one-time price of
$29.85
will be added to your order.
Description
Specifications
New Hampshire Flag: History & Information
Flags for Patriots is the premiere destination to buy New England State Flags online. Including the New Hampshire State Flag. The state of New Hampshire and its flag both have a rich history. Learn more about the current design of the flag of New Hampshire below:
New Hampshire State Flag: The Seal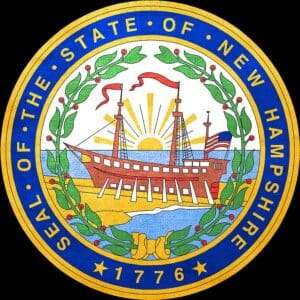 The seal of New Hampshire was adopted in 1784 following the Revolutionary War. On December 28, 1792, a regulation was adopted by the legislature that required regiments in the state militia to carry the national flag and regimental colors displaying the state seal. More than a century passed, however, before the adoption of a state flag for general purposes. The 1909 flag law provided for a blue background bearing the state seal in the center, framed by a wreath of laurel with nine stars interspersed, signifying the rank of New Hampshire as the ninth state to ratify the U.S. Constitution.
The seal, which was slightly altered in 1931, features the frigate Raleigh being built at Portsmouth. Although the ship was built in 1776, the seal shows it flying flags that were not adopted until 1777.
The Current State Flag of New Hampshire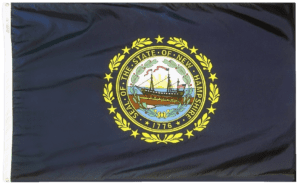 The New Hampshire State Flag shall be of the following color and design: The body or field shall be blue and shall bear upon its center in suitable proportion and colors a representation of the state seal. The seal shall be surrounded by a wreath of laurel leaves with nine stars interspersed. When used for military purposes, the flag of New Hampshire shall conform to the regulations of the United States.
The New Hampshire Flag has only been changed once since its adoption in 1909. This change was not to the design of the flag itself, but to the State Seal centered on the flag. In 1931 the New Hampshire Legislature passed recommendations to more precisely describe the State Seal at the prompting of the New Hampshire Historical Society. Information on the states flag appears below. The frigate Raleigh on the flag is tipped to appear as though it is floating on the water - all surrounded by laurel leaves and nine stars..
New Hampshire did not officially adopt a state flag until 1909. Prior to that, New Hampshire had numerous regimental flags to represent the state. The New Hampshire Flag has only been changed once, in 1931 when the state's seal was modified.
[Source: New Hampshire Revised statutes Annotated (RSA) 3:2]
Our complete selection of New England State Flags, including this one for New Hampshire are always in stock and ready to ship.  All of our state flags, regardless of the size are made here in the USA and have the same high quality characteristics:
Constructed with 100% nylon
Beautiful, brilliant colors
Resistant to wear and tear of sun & rain
Complete with heavy canvas heading & brass grommets-All intricate emblems are accurately reproduced to fine detail
We also stock 3'x5' & 4'x6' indoor state flags with pole hem and fringe
Made by Valley Forge Flags