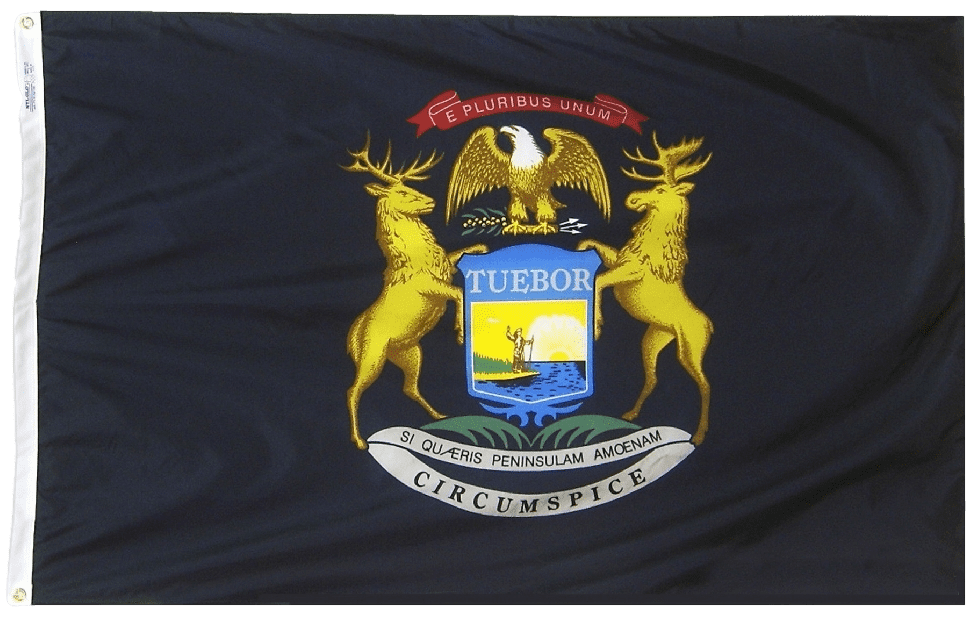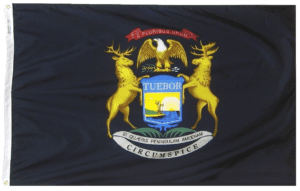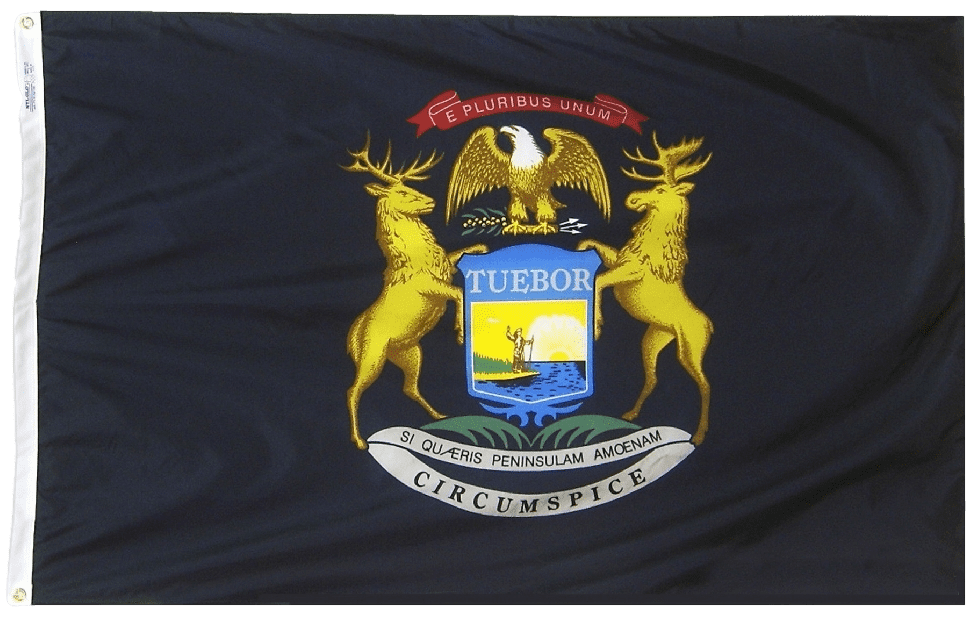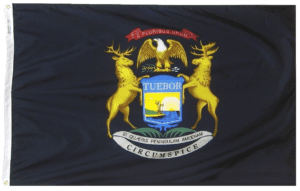 A one-time price of
$29.85
will be added to your order.
Description
Specifications
The Flag of Michigan:
Officially Adopted:  June 26, 1911
On the blue shield the sun rises over a lake and peninsula, a man with a raised hand and holding a gun represents peace and the ability to defend his rights. The elk and moose are symbols of Michigan, while the eagle represents the United States.
Michigan State Flag History
The coat of arms, derived from the Michigan state seal, has three Latin mottoes: "E pluribus unum" ("One out of many"), "Tuebor" ("I will defend"), and "Si quaeris peninsulam amoenam circumspice" ("If you seek a pleasant peninsula, look about you"). The bald eagle of the United States serves as a crest, while an elk and a moose, supposedly based on the coat of arms of the Hudson's Bay Company, serve as supporters to the shield. The central design of the shield shows a man with a rifle standing on a peninsula and the sun setting over surrounding waters. The coat of arms was adopted in 1835 and has been used ever since, with only minor artistic changes.
In 1837 a Michigan military company known as the Brady Guards received its colours from the state's first chief executive, "Boy Governor" Stevens T. Mason, who acquired his nickname by being elected at age 23. The company flag was blue with the new state seal on the obverse, a popular design among U.S. military units at the time. Michigan formally adopted blue military colours in 1865 and a state flag of the same tint in 1911.
Whitney Smith, Britannica.com
All of our state flags, regardless of the size are made here in the USA and have the same high quality characteristics:
Constructed with 100% nylon
Beautiful, brilliant colors
Resistant to wear and tear of sun & rain
Complete with heavy canvas heading & brass grommets-
All intricate emblems are accurately reproduced to fine detail
Made in the USA by Valley Forge Flags